WHERE YOU WILL BE STAYING

Accommodations for most USA Eagles Tours Modules for 2023 are offered in Budget and/or Preferred designations with the option of Superior properties in certain venue cities. We will also have The Special on the famous French Riviera. 
Our Headquarters will be the Hilton Paris La Defense where all match ticketing functions will be handled on the ground in France. Travel Modules based at Headquarters  – Hilton Paris La Defense – are available on a first come first serve basis at the time you make your booking with full payment. 
You can book any number of our Travel Modules in France on this website subject to availability.
As always, when traveling outside the United States, accommodation locations, ratings, amenities, standards and even the concept of what overnight accommodation actually consists of, can vary substantially. Most hotel chains in France may not be familiar to you. With this in mind we have placed our accommodations for RWC 2023 into 4 designations (Budget, Preferred, Superior and The Special) as well as our Headquarters at the Hilton Paris La Defense. Travel Module bookings will be taken by designation and specific hotels will be allocated in July 2023 in the Budget, Preferred and The Special designations. When booking Modules at Headquarters, Hilton Paris La Defense and any Superior designated properties, you will know the name of the hotel at the time you book. In allocating hotels to designations, we have considered factors such as location relative to airports, train stations, Rugby World Cup 2023 stadiums and other factors pertaining to suitability for a Rugby World Cup 2023 tour, as well as a compilation of independent geographically recognized hotel grading considerations.
HEADQUARTERS – HILTON PARIS LA DEFENSE

USA Eagles Tours Paris headquarters for the duration of Rugby World Cup France 2023, will be at the Hilton Paris La Defense.
Located just a few minutes from central Paris, equidistant from Roissy Charles de Gaulle and Orly International airports, with easy access by Metro, RER and taxi, La Defense is only a stone's throw from the "City of Lights", its monuments, famous Avenues and shopping areas. Saint-Denis and Stade de France are only 30 minutes away on the RER.
Hilton Paris La Defense will be home to all USA Eagles Tours operations in France including match ticket facilitation, last minute extra ticketing etc.
We have room allocations at the Hilton Paris La Defense for all Travel Modules in Paris, available on a first come first served basis, including the Opening Match, multiple pool games, the two (2) Quarter-Finals, both Semi Finals and the 2023 Rugby World Cup Final at Stade de France.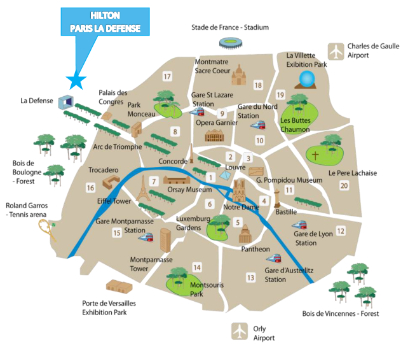 THE SPECIAL
THE FRENCH RIVIERA – THE COTE d'AZUR

England v Argentina and South Africa v Scotland (Module 5) and Quarter Finals 1 & 3 (Module 26) will be played in the bustling, cosmopolitan port city of Marseilles. If you think you would prefer the sophisticated ambience of the French Riviera, we have a very unique Travel Module with an alternative accommodation option to Marseilles for Modules 5 and 26. We have called it – THE SPECIAL.
THE SPECIAL has you minutes from the Railway station for transfers to the matches in Marseilles, and within very easy access to Nice domestic and International airport – not to mention right at the glistening Mediterranean seafront. From Menton to Monte Carlo, Nice to Antibes and Cannes – the Cote d'Azur awaits. All the places you've seen 007 visit in the movies!!  
The choice is yours. If you select Modules 5 or 26 with THE SPECIAL accommodation option on the Riviera (as opposed to in Marseilles itself) you will need to purchase round trip, same day rail tickets to Marseilles for the matches.
A good option for this has always been the multi-day Rail pass that includes flexible train travel along the coastline between Monaco and Marseilles picking up along the way (Nice, Antibes, Cannes). 
As soon as we are able to do so, we will suggest what we consider to be the best options for you to purchase a rail travel pass. Alternatively, you can either pre purchase the day return tickets online before you leave home from SNCF (French Rail), or upon arrival in France.
Menton, (Situated on the coast between Monte Carlo and the Italian boarder) is where William Webb-Ellis is buried – he founded the game of rugby at the Rugby School in England in the 1800's by "picking up the ball and running with it" – instead of kicking it. The cemetery at Menton is a popular stop off point for rugby fans from around the world.
Members of USA Eagles Tours staff will be staying in the hotel with you and traveling on the train to the games in Marseilles as part of Modules 5 and 26 to accompany and assist our guests who select the "The Special" French Riviera accommodation option.

These properties represent basic, Budget overnight accommodation options. Rooms are generally smaller than hotels we are used to here in the U.S, and additional facilities are limited.
Rooms have shower with separate toilet and are generally sized for one single or one double bed or built a little larger to accommodate 2 single beds.  Continental breakfast is usually taken in the lobby. 
The properties are clean, practical and always located within comfortable walking distance of a Metro or RER station enabling connecting transportation to and from airports, stadiums and TGV bullet train stations – and of course you are never far from a fromage and jambon baguette!!!

These properties are good quality accommodations, with private facilities, restaurants, include continental breakfast and give access to local entertainment and shops. They are all located within comfortable walking distance of a Metro or RER station enabling connecting transportation to and from airports, stadiums and bullet train stations. Preferred is always our most popular category.
In Paris we will offer the option of a truly Superior property. The Hilton Paris Opera.
This beautifully restored 1889 building is beside the Saint Lazare train and metro stations. Galleries Lafayette Haussmann is a short walk away and the Louvre is less than two kilometers. Montmartre and Sacre Coeur Cathedral are within three kilometers and we're just 15 minutes from the Eiffel Tower. Charles de Gaulle International Airport and Stade de France easily accessed by Metro and RER.
USA RUGBY VIP VENUE HOTELS

If the Eagles qualify as Final Qualifier Winner we will be in great shape. We have already selected and secured accommodations in Toulouse, Nice and Saint-Étienne to cover our 4 Pool Stage matches. These carefully selected hotels are uniquely positioned in the venue cities and will serve as USA Rugby's headquarters for the respective Pool Stage matches. At this stage these properties are only available as part of the USA Rugby VIP Packages.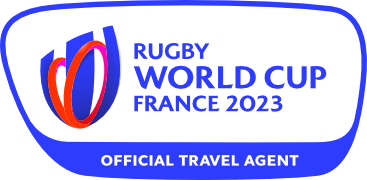 FOR ALL ENQUIRIES RELATING TO INTERNET BOOKINGS CALL
+1 619 332-7288
FOR ALL OTHER RUGBY WORLD CUP 2023 FRANCE TRAVEL QUESTIONS:
info@usaeaglestours.com