WHERE YOU WILL BE STAYING

Accommodations for most USA Eagles Tours Modules for 2023 are offered in our Preferred designation with the option of Superior properties in certain venue cities.
Our Headquarters will be the Hilton Paris La Defense. All match ticketing functions will be handled on the ground in France in either Paris, Marseilles or Nice (See Tickets). Travel Modules based at Headquarters  – Hilton Paris La Defense – are available on a first come first serve basis at the time you make your booking with full payment.
You can book any number of our Travel Modules in France on this website subject to availability.
As always, when traveling outside the United States, accommodation locations, ratings, amenities, standards, and even the concept of what overnight accommodation actually consists of, can vary substantially. Most hotel chains in France may not be familiar to you. With this in mind we have placed our accommodations for RWC 2023 into 2 designations (Preferred and Superior) as well as our Headquarters at the Hilton Paris La Defense. Travel Module bookings will be taken by designation and specific hotels will be allocated in July 2023 in the Preferred designations unless specifically indicated. When booking Modules at Headquarters, Hilton Paris La Defense, and any Superior designated properties, you will know the name of the hotel at the time you book. In allocating hotels to designations, we have considered factors such as location relative to airports, train stations, Rugby World Cup 2023 stadiums and other factors pertaining to suitability for a Rugby World Cup 2023 tour, as well as a compilation of independent geographically recognized hotel grading considerations.
HEADQUARTERS – HILTON PARIS LA DEFENSE

USA Eagles Tours Paris headquarters for the duration of Rugby World Cup France 2023, will be at the Hilton Paris La Defense.
Located just a few minutes from central Paris and only 6 minute walk from the Pullman Hotel, equidistant from Roissy Charles de Gaulle and Orly International airports, with easy access by Metro, RER and taxi, La Defense is only a stone's throw from the "City of Lights", its monuments, famous Avenues and shopping areas. Saint-Denis and Stade de France are only 40 minutes away on the RER.
Hilton Paris La Defense will be home to all USA Eagles Tours operations in Paris including match ticket facilitation, last minute extra ticketing etc.
At this time we have room allocations at the Hilton Paris La Defense remaining for Travel Modules in Paris, available on a first come first served basis, including South Africa v Ireland, Ireland v Scotland, the two (2) Quarter-Finals, both Semi Finals and the 2023 Rugby World Cup Final at Stade de France.

These properties are good quality accommodations, with private facilities, restaurants, include continental breakfast and give access to local entertainment and shops. They are all located within comfortable walking distance of a Metro or RER station enabling connecting transportation to and from airports, stadiums, and bullet train stations.

In Paris we will offer the option of a truly Superior property. The Hilton Paris Opera.
This beautifully restored 1889 building is beside the Saint Lazare train and metro stations. Galleries Lafayette Haussmann is a short walk away and the Louvre is less than two kilometers. Montmartre and Sacre Coeur Cathedral are within three kilometers and we're just 15 minutes from the Eiffel Tower. Charles de Gaulle International Airport and Stade de France easily accessed by Metro and RER.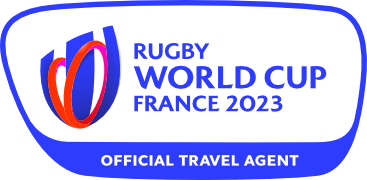 FOR ALL ENQUIRIES RELATING TO INTERNET BOOKINGS CALL
+1 619 332-7288
FOR ALL OTHER RUGBY WORLD CUP 2023 FRANCE TRAVEL QUESTIONS:
info@usaeaglestours.com